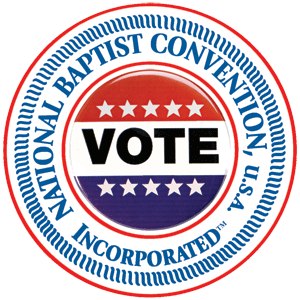 Information and Updates Pertaining to the National Baptist Convention, USA, Inc. Elections & Voting Processes


---
2014 ELECTION RESULTS:
September 5, 2014 -- On Thursday, September 4, 2014, the National Baptist Convention, USA, Inc., under the leadership of Dr. Julius R. Scruggs, elected Dr. Jerry Young as its next President. Dr. Young is the current Vice President-At-Large and Pastor of the New Hope Baptist Church in Jackson, MS. The voting results were (by percentage of total votes):
Young – 49%
Kimber – 22%
Jones – 14%
Holmes – 11%
Vaughn – 4%
---
ELECTION SUPERVISORY COMMISSION
---
IMPORTANT UPDATE & NEW INFORMATION

134th Annual Session
New Orleans, LA
Board of Directors Meeting of the NBC, USA, Inc.
September 1, 2014

Reverend Tellis Chapman (MI) motioned & seconded by Reverend Guy Campbell (NJ) to re-affirm the voting procedures passed and adopted by the Board of Directors in the June 18, 2014 meeting Board of Directors Meeting in Dallas, Texas, when it was motioned by the Reverend C. L. Bachus (KS) and seconded by the Reverend W. M. Jackson (IL) that the report given by the Reverend Calvin Butts, III (NY), chair of the Election Supervisory Commission (ESC), be accepted and the motion carried. The attachment of the report on Voter Eligibility, numbered 1 through 5 read as follows:
VOTING ELIGIBILITY
By June 30, 2014 the ESC will send a letter to NBC, USA, Inc. Churches, Constituent Entities that specifies the number of votes they are eligible to cast in the NBC, USA, Inc. Presidential Election (taking place in New Orleans, LA, on Thursday, September 4, 2014).
The ESC will develop the 2014 Official Vote Credential. The face of the 2014 Vote Credential will bear the number (#) of votes that a Church, Constituent Entity is eligible to cast.
Each Church, Constituent Entity, will receive an additional Vote Credential (representing an additional vote) upon registering and paying appropriate registration fees to NBC, USA, Inc. in September 2014. After registering, and receiving the official registration receipt, the Church, Constituent Entity will proceed to the ESC Office in the Morial Convention Center, to pick up their Official Vote Credentials(s).
The ESC will distribute Vote Credentials on Monday, September 1 to Wednesday, September 3, 2014.
No Voting Credentials will be distributed on the day of Vote, Thursday, September 4, 2014.
The motion passed overwhelmingly. This vote negates the new information that was posted on the website regarding voting procedures as well as disseminated into the public domain by mailings. Pastors and/or designees of voting Constituent Entities upon registering can proceed to the ESC and pick up their voting credentials for voting delegates upon identifying them on the ESC form.
---
Previous Elections Related News