Celebration Honoring Appointment of Sis. Cynthia P. Smith as Woman's Auxiliary President
March 28, 2017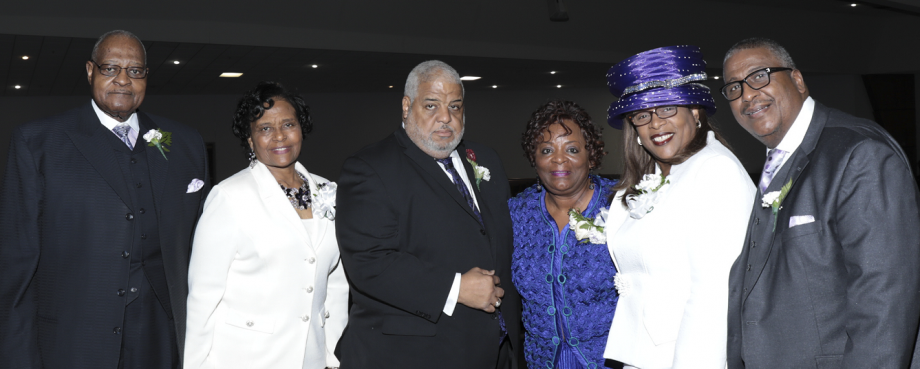 From left to right: President Henry and Marilyn Fuller, Wolverine Baptist State Convention;
Dr. Robert and President Cynthia Smith; and President Wallace and Debra Mills, BM&E State Convention of Michigan
The Women of the Michigan Baptist Fellowship comprised of the Baptist, Missionary, and Educational State Convention of Michigan (BM&E) and the Wolverine State Baptist Convention of Michigan found it difficult to wait until Friday, March 17, 2017 for the Strolling Reception and Celebration Service for Cynthia Perkins Smith, President of Woman's Auxiliary of the National Baptist Convention, USA, Inc.
In January 2017, Cynthia Perkins Smith was appointed by the National Baptist Convention, USA, Inc. President, Dr. Jerry Young to become the 7
th
woman to lead the Woman's Auxiliary.
The evening commenced with President Cynthia Perkins Smith escorted by Master Joshua Smith, her eldest grandson, walking down the staircase into the "Great Hall" of the New Providence Baptist Church of Detroit, Michigan flanked by greeters holding purple and silver streamers.
President Smith was received at the strolling reception prepared for 400 guests primarily women dressed in white with purple. President Smith received numerous kudos, well wishes and posed for many pictures, after greeting the audience as a whole.
The Celebration Service began when Dr. Robert Smith, Jr. escorted his wife, President Cynthia Smith into the sanctuary.
Our President was inundated with many well-deserved accolades from Michigan workers as well as those from across the land...
Read More
Back