UNICEF Partners with Consortium of African American Faith-Based Leaders to Help Stop Ebola
January 21, 2015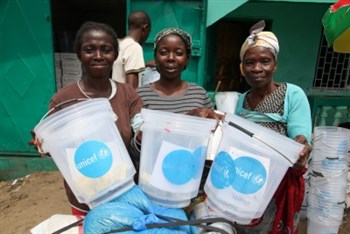 New York, NY – The U.S. Fund for UNICEF is proud to announce a new partnership to combat Ebola with a consortium of noted faith-based leaders who head up some of the largest African American churches and religious organizations in the country. The joint initiative, I AM #STOPPINGEBOLA, will launch during Black History Month and aims to raise funds in support of UNICEF's work to halt the spread of Ebola in Liberia, one of the West African countries hardest hit by the virus...

From February 1, 2015 through the end of the month, faith leaders representing churches with more than 11 million members will encourage their congregations to donate toward the purchase of hygiene kits critical to protecting children and families from Ebola. Each hygiene kit costs $43 and contains soap, chlorine, gloves, buckets and instructions for usage, among other much-needed items.

The hygiene kits will be distributed to households and schools in communities across Liberia that are affected by Ebola. The disease has infected more than 21,000 people and claimed over 8,000 lives in West Africa. More than 11,000 children have lost one or both parents due to the virus. To learn more about I AM #STOPPINGEBOLA, please visit http://www.unicefusa.org/iamstoppingebola

Members of the Faith-Based Leadership Consortium include Dr. Calvin Butts, the Pastor of the Abyssinian Baptist Church in the City of New York and the President of the State University of New York College at Old Westbury; Bishop Charles H. Ellis, III, Presiding Prelate of the Pentecostal Assemblies of the World, Inc.; Dr. William B. Moore, Chairman, Foreign Mission Board, National Baptist Convention USA, Inc.; Dr. James C Perkins, 20th President of the Progressive National Baptist Convention, Inc.; and Bishop P.A. Brooks, First Assistant Presiding Bishop on the presidium of the Church of God in Christ, Inc....
Select "Foreign Missions - Ebola" as your donation choice
Your donation is tax deductible.
Back