Tropical Cyclone Hits SC and Causes Widespread Flooding and Destruction
On February 5, 2016 a delivery of: water, can foods, cleaning supplies, clothes, toothbrushes, pots, pans, dishes, large coffee pot, paper goods, kitchen utensils and small grill, crock pot, windows, plywood, sheetrook, headboards, large table, chairs, furniture, hula hoops and other household items were taken to The Jerusalem Center and we were warmly greeted by Dr. And Mrs. Gamble and their team.
Donations were given by
The Cornerstone CDC;
Pastor, A. Grant, New Direction Ministries;
Rev. C.J. Ross, Jr., Hills Chapel Missionary Baptist Church;
Pastor Fuller; Rainbow Missionary Church;
Disabled American Veterans Chapter 98;
Deep Bottom 4-H Club; and
Volunteers of the Omega Psi Phi Fraternity.
A U-Haul truck was rented to deliver items and 5 faithful volunteers assisted with sorting, packing, loading and transportation from The Cornerstone Community Development Corporation, Warsaw, NC.
Other furniture items are available and will need to picked up from Warsaw, NC.
During this trip we were taken on a wonderful tour of the Jerusalem Center to view the outstanding work; as long term recovery begins.
We are excited about continuing our partnerships to assist the community, churches but most of all the families who were impacted by the recent floods in SC.
Best regards,
Your humble servant,
Darlene Leysath, ED
The Cornerstone CDC
103 South Front St.
Warsaw, NC 28398
910-214-6379 or
910-293-3003
---
Click Here to Donate to the NBC, USA, Inc. Disaster Relief Fund
---

It Happened In October 2015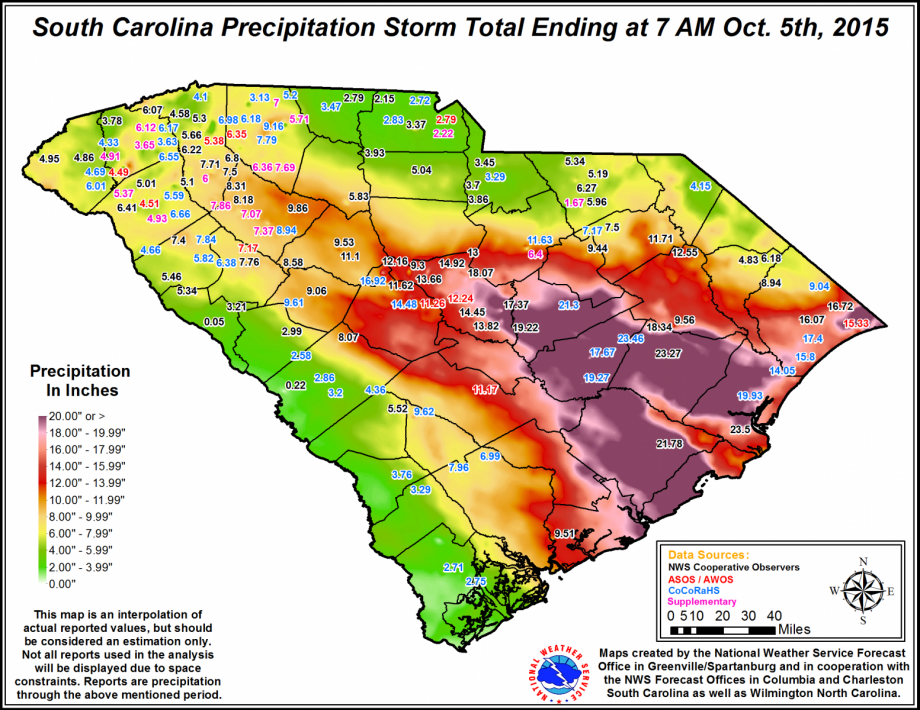 Tens of thousands of South Carolinians have been affected by the recent record rainfall and massive flooding from the coastal area to the midlands. The storm was of historical proportions, with as much as 26 inches of rain falling in some locations. The damage is so widespread until it could take years for some to recover.
National Baptist Convention's Disaster Management office is working in partnership with the American Red Cross, FEMA, and other disaster relief agencies, as well as congregations, to aid and assist the people of South Carolina with emergency supplies, such as food, water, clothing, and vital information as it relates available services.
National Baptist Convention, USA, Inc. has an active presence from our Disaster Management team on the ground. Our National President, Dr. Jerry Young, accompanied by Area Vice President, Dr. Clarence Moore, have been on the ground in Columbia to assess the situation and will soon announce our Convention's broader response.
The National Baptist community is requesting you to add to your prayers financial gifts to aid the thousands of flood victims who are in need of immediate assistance.
We will provide you with additional information in the near future.
This is done,
Because of Calvary,
Dr. Joe Bush, Director, Office of Disaster Management
Walker Memorial Baptist Church
120 East 169th Street
Bronx, New York 10452
Office Phone: 718-588-4262
Mobile: (917) 287-9928
Email: disasterrelief@nationalbaptist.com
---
October 2015 will go down in history as one of the wettest months SC has ever seen. As much as 2 feet of rain reported within a 24 hour period in areas in SC, with rainfall exceeding that of any tropical cyclone in South Carolina history.
The catastrophic floods striking South Carolina will go down in the history books, not only because of the lives they've taken or the destruction they've wrought, but also because of the sheer amount of rainfall. By the time the last raindrop is counted, the October 2015 storm will go down as one of the most prolific rainfall events in the modern history of the United States.