Moderators (District Associations)
From the Desk of...

138th Annual Session News: Moderators Schedule-at-a-Glance

Tuesday, September 4
2:30 - 3:45 p.m - "Facing and Surviving the Struggles of Ministry" - A Dialogue with Rev. Nathan Johnson

Devotionals
Rev. Wayne Cox - Wed. AM
Rev. Jack Teeler - Wed. PM
Rev. Keith Witherspoon - Thur. PM

Sermons
Rev. Stephen Thurston - Tue. PM
Rev. Alyn Waller - Wed., PM
Rev. Jerry McAfee - Thur. PM

Expositions
Rev. Leroy Cole - Wed. PM
Rev. Jacob Johnson - Thur. PM


---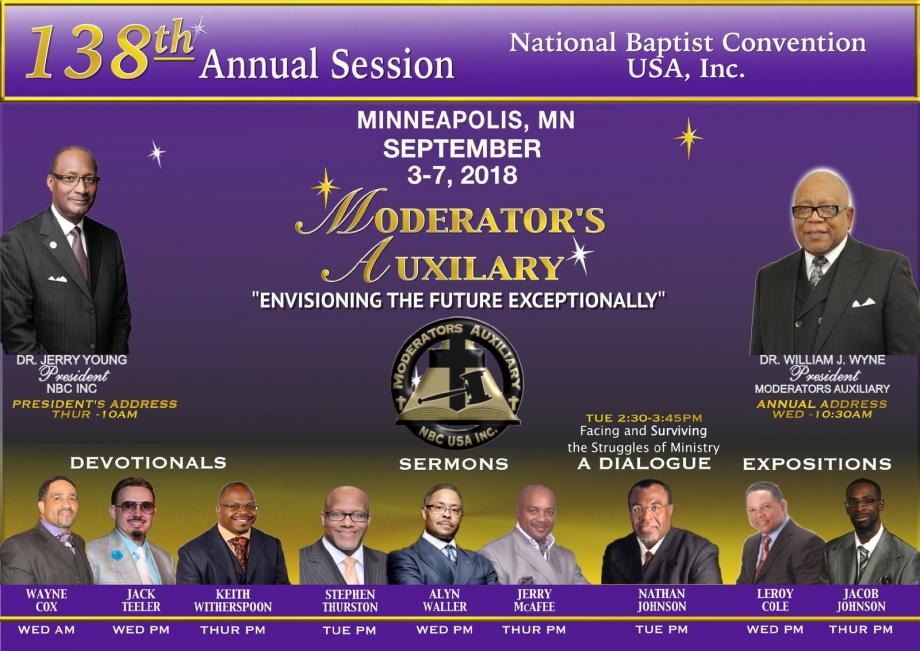 The focus of the Moderator's Auxiliary is to carry the vision cast by President Jerry Young into the Associations and the State Convention. Presently, the Moderators are responding to Dr. Young's request for supporting the Convention with a Disaster Relief offering. Associations from across the Country are being asked to give in support of this effort that hopefully becomes the seed for a Disaster Relief Fund in the National Baptist. Too often when the Convention has to respond to Disasters, it does so without specific funds designated as such.

The Moderator's Auxiliary also exists to provide guidance and materials to Moderator's and Association as it pertains to the work of a District Association.
The Moderator's Auxiliary is one of the several extensions to the parent Body that embraces and articulates the vision of the President of National Baptist.

President William J. Wyne, Jr.

---