From the Desk of
Sister Cynthia P. Smith, Woman's Auxiliary President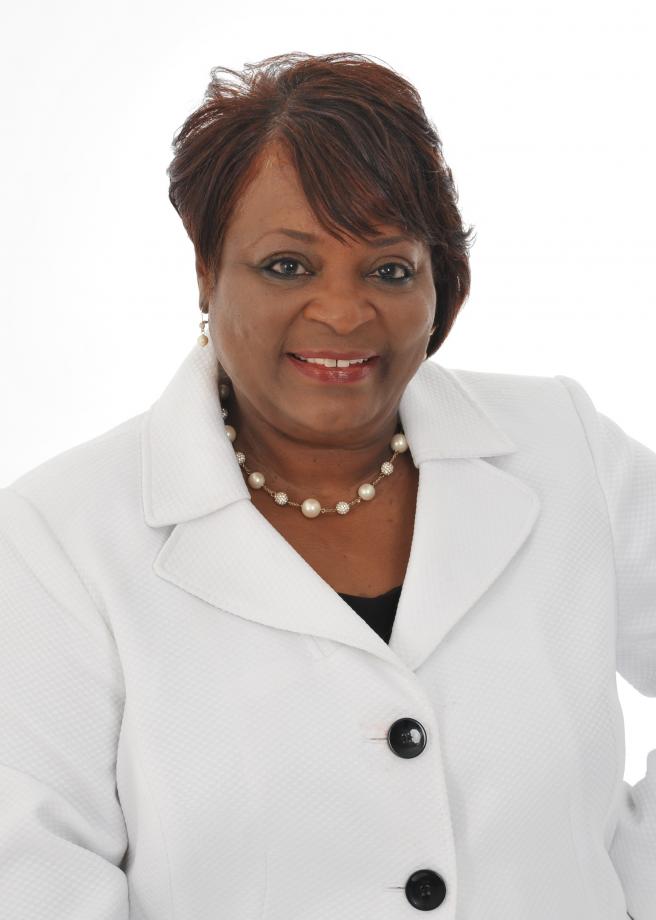 Greetings Sisters,
The Season of Summer has arrived. To everything there is a season, A time for every purpose under heaven: We are Women of and with Purpose. What a joy it was to end our Season of Spring and enter our Season of Summer during the 2018 Congress of Christian Education in Oklahoma City, Oklahoma. I saw and fellowshipped with many of you there.
During the summer we experience the miracle of continued growth all around us as flowers bloom, bees and butterflies pollenate. We too are growing in the grace and knowledge of our Lord and Savior Jesus Christ. To Him be the glory both now and forever.
We celebrate all of our graduates. I extend my congratulations to each of them and to the parents and the village who have nurtured our children from preschool thru college.
We will celebrate the independence of our country, thanking God for all of His blessings to us. We must continue to pray for the leaders who hold any governmental position. We are praying always that God will fill them with His wisdom as they govern His people.
We are looking forward to seeing you at our 138th Annual Session, September 3-7, 2018 in Minneapolis, Minnesota. The Woman's Auxiliary Board Meeting will be held on Monday, September 3, 2018, at 4:00 p.m. The place will be announced. All women are welcome. Please watch the Convention's website and our Face Book page for updated information. On Tuesday, September 4, 2018, we will host our District Presidents and Local Mission Presidents Breakfast. The attire is white with red accessories. Thursday, September 6, 2018 will be our State Presidents, Past and Present Banquet. This year we will present our Presidents on Parade. A beautiful souvenir journal will be available. An Advertisement Contract is attached for your convenience. We know you will want to showcase your State President. The attire is dresses and pearls. We will have other enriching activities during the convention week to include fun and game night on Wednesday. Please stay tuned.
Happy Birthday to all sisters celebrating birthdays during the months of June, July and August.
We encourage you to pray for our President, Dr. Jerry Young, the leadership and constituency of our convention.
This Is Our Season!
In Sisterly Love,
Sister Cynthia P. Smith, President
"Envisioning the Future Exceptionally"
"And now abideth faith, hope, charity, these three; but the greatest of these is charity"
I Corinthians 13:13

Women in White Directives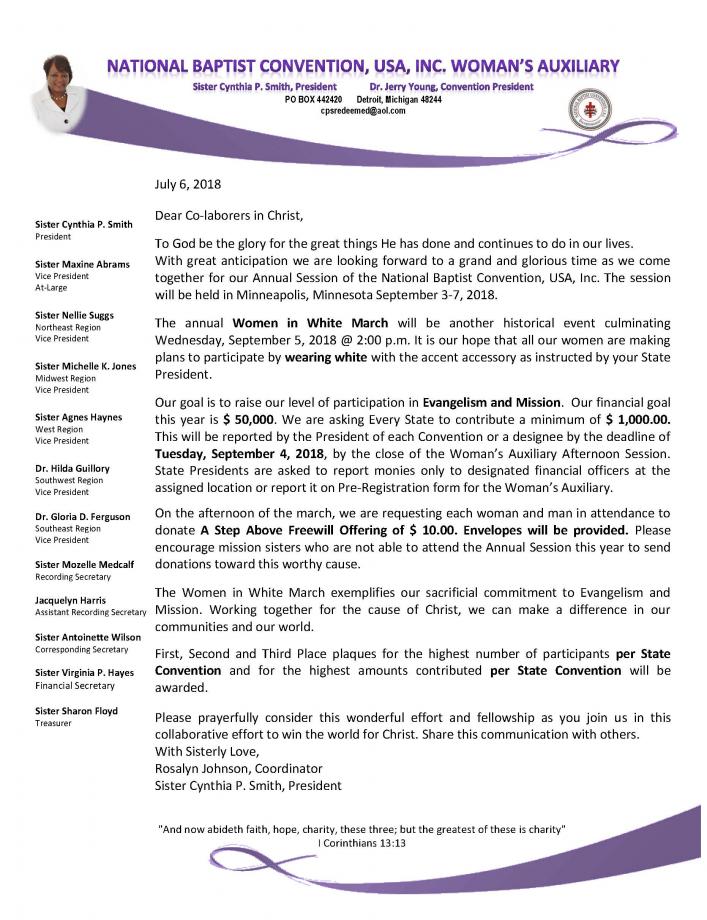 [Click here to download this message]
Woman's Auxiliary News
The Woman's Auxiliary needs you to take a minute to update your personal data so that we have accurate contact information. Download the form by clicking on the image of the form. Save it to your …Read More
The Mission is the Official Quarterly Study Guide of the Woman's Auxiliary to the National Baptist Convention, USA, Inc. Sister Paulyne Y. Campbell is the Editor. The National Baptist …Read More